Why should I train my employees?
Encouraging continuous employee training in the workplace has become a matter of life and death for businesses of all sizes and branches. Companies that motivate employees to develop their skills are better at keeping flexible, ambitious, and highly qualified specialists. Thus, such businesses faster spot competence shifts in the labour market. Clear-cut and well-organized learning and development strategy dramatically reduces employee turnover and increases employee performance.
As an IT company operating at the confluence of changeable and challenging worlds of technology and the labour market, we fully understand the importance of learning in the workplace. However, our L&D specialists are also very aware of the obstacles employees have to overcome while learning in the flow of work. So, here are the takeaways of the strategy we have been applying.
1. Align business goals with employees' aspirations
We decided to ask our employees what role learning plays in their career upgrade and why they need it. Our specialists surveyed on this topic. People were asked:
if they see the necessity in the workplace learning,
what incentives make them keep studying,
what

knowledge gaps they have

,
what

learning styles they prefer,

what

training programs will be effective,

what successful learning means to them,
how much time they are ready to dedicate to skill-building, and
what stops them from starting the process.
Then we compared the answers to the company needs and measured how they overlapped. Turning an employee development strategy into an integral part of business goals planning reduced our concerns on how to engage people with new challenging tasks. The employees are hungry for new skills want to master them. The next step was to understand how to make this inspiration last.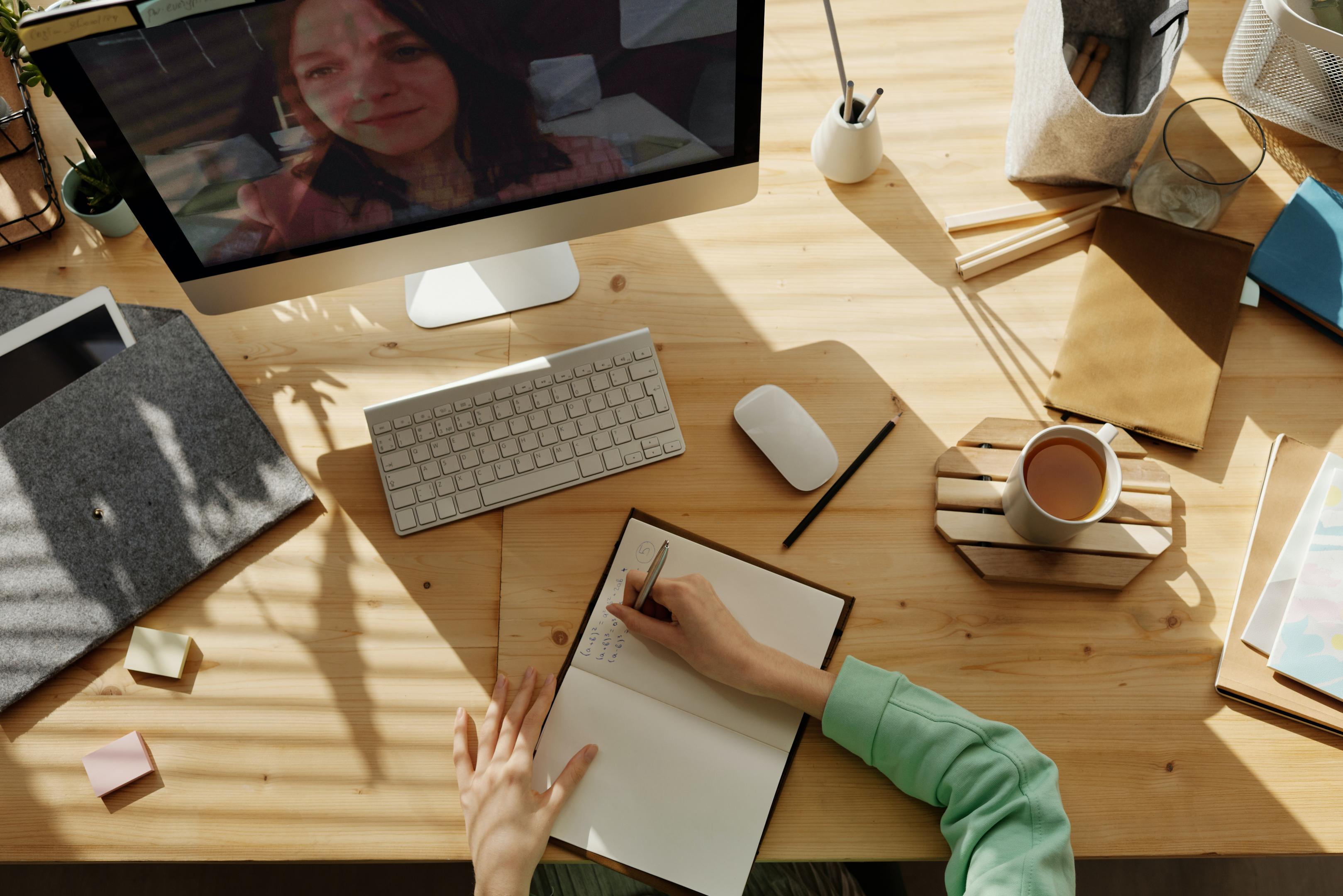 2. Turn wishes into motivation factors
Among the most common answers about the workplace learning incentives were the need to perform assigned tasks faster and tackle new challenges more effectively. Employees also mentioned broadening financial horizons, professional growth even the idea of career change within the company. Readiness to constantly improve qualification needs endorsement and appreciation. So, we decided to process these motivation factors and turn them into viable reminders of why personal learning is worth invested efforts. How? Well, our L&D specialists elaborated the system of endorsement for those who constantly and successfully took various courses and explored different workplace learning opportunities. Developing employees who show consistency in training and development can count on a mixture of financial and intrinsic rewards. They are also encouraged to share educational findings and insights into different problems. We take into account employees' suggestions about potentially useful courses or workshops. If they appeared to be productivity-boosting for the company, these colleagues also get rewarded for their enthusiasm.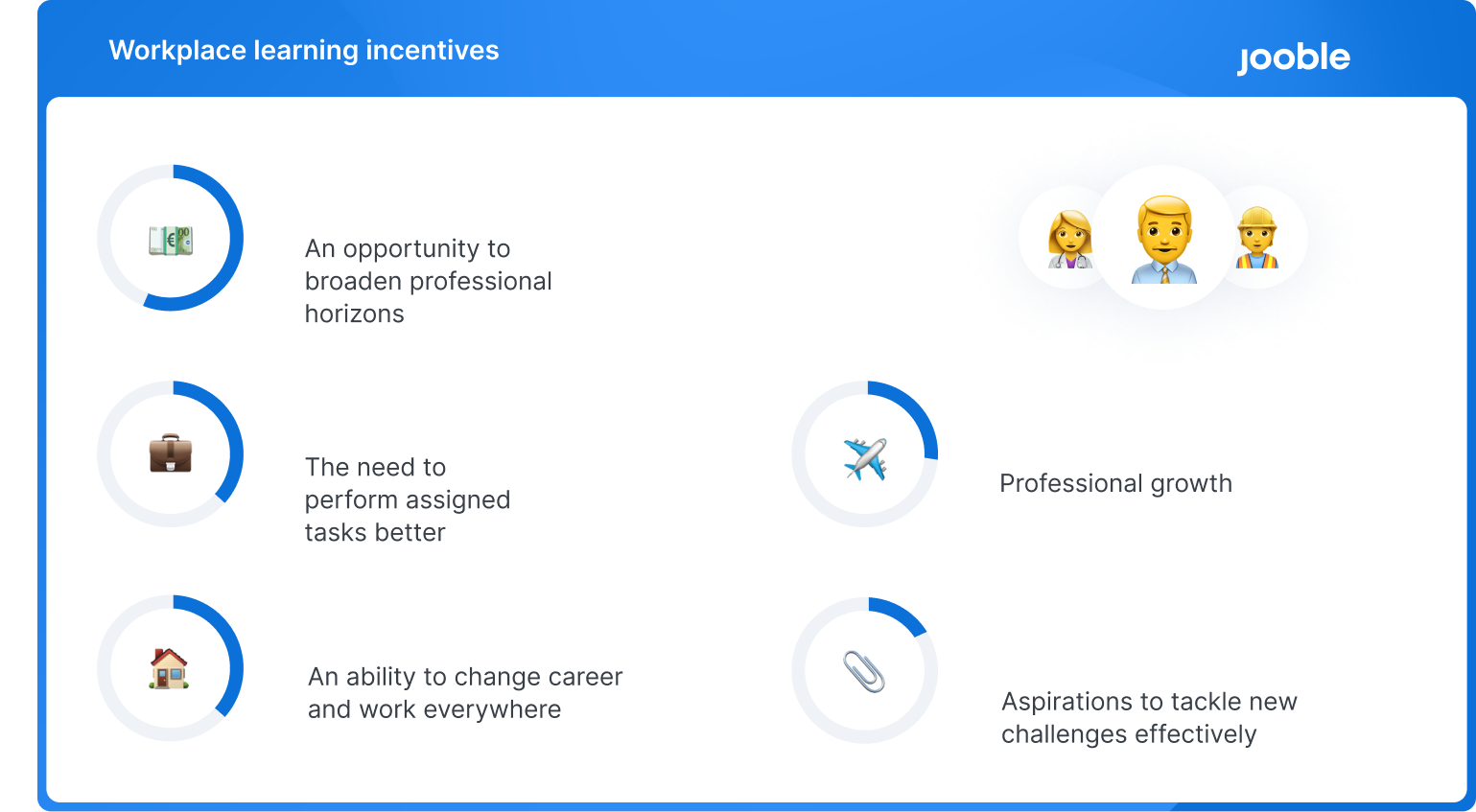 3. Make training opportunities in the workplace available
How can learning opportunities be provided in the modern workplace? Options fall into three main categories. The first one is structured learning when employees attend full-fledged classes, lectures (training sessions), or MOOCs. When a department or a team needs to obtain new skills for the upcoming tasks or work with some knowledge gaps, it signs up for the course, sets deadlines for accomplishing it, and gets a mentor who will guide employees through the whole process. There is also an option of informal, more flexible education. It enables people to get new knowledge whenever and however they want. This type is quite popular among those eager to improve self-management, public speech, leadership, communication, or digital literacy skills. In this case, articles, discussion clubs, or podcasts come in handy. Blended education in the workplace is another popular option among employees. The opportunity to test real-time and asynchronous learning helps people better understand what suit them the most. Moreover, a combination of face-to-face communication with instructors and studying autonomy offers them more ways to get useful skills in the workplace. Our L&D team informs employees about new learning opportunities by publishing digests of upcoming educational events and announcing the start of courses. It is always in search of experienced speakers who can share with employees their insights into relevant topics. Jooble also subscribes to several virtual library apps, so people have easier access to specialized literature and fiction.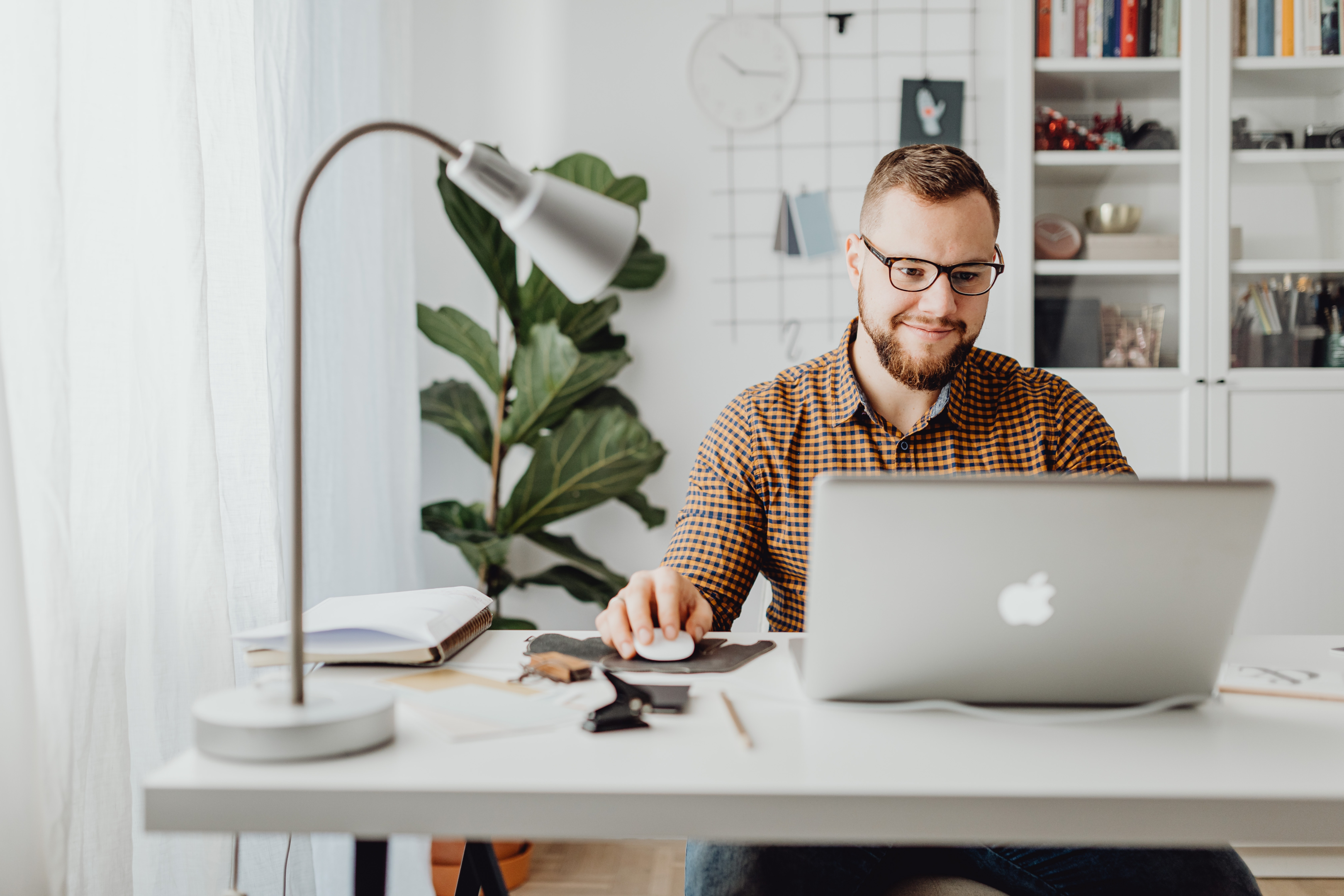 4. Applying workplace
learning culture
: key factors to keep in mind
Creating such a culture in the workflow requires resources. Make sure to formalize the development strategy and allocate a budget for it. Among other outcomes, this will be a strong message for employees that acquiring new skills is an integral part of the flow of work.
Divide potential courses into long-and short-term ones. If employees need time-managemenе assistance, a series of lectures or discussion panels could be enough. On the other hand, taking a full-fledged data-analytics or SQL course requires way more time and consistency. Based on employees' needs and time resources, we help people organize their offline or digital learning process and schedule it correctly. One of the most common mistakes why certain things never happen in our life is the lack of a plan.
Encourage an exchange of thoughts and opinions on all levels. It's a common practice when our top managers are asking for tips about good courses o podcasts. Employees can challenge different ideas and represent their own ones during informal and formal events. The culture of opinion exchange helps obtain knowledge from various channels. It also creates a sense of importance for employees since they feel that their background is valuable.
Create a sense of achievement. Every week our L&D team published the list of the biggest company ''book worms". These are people who spend a lot of time on our virtual libraries. There is also a ''books of the week" list where we mention literature Jooble employees are reading with enthusiasm. It creates a feeling of achievement for those who dedicate a lot of effort to studying and reminds people about such options. Furthermore, the ''book nerds" list creates a sense of competition since people like finding themselves among winners.
Work on the consistency of the process. Once the course has started, keep an eye on the learners' progress. It's necessary to strike the delicate balance between making things knowledgeable and entertaining. People have a lot of things to do, so education should not be a synonym for boredom. We cultivate brainstorming sessions and don't overload employees with Zoom meetings. Employees are strongly recommended to focus on 1-max 2 courses and not spread themselves thin. Those who accomplish studies inside or outside the company get endorsements and incentives to apply new knowledge to the new complicated projects.
Collaboration also plays a crucial role in the process. People become engaged learners when they process information together and teach each other in the group. We encourage discussion clubs, language clubs, and other activities where people can share their opinion on the topic and contribute to the general progress. Discussions over the glass of wine are very welcome as well.
Autonomy matters as well. Far not everyone feels comfortable studying in a group. If the person better comprehends material on her own, it shouldn't be an obstacle. Just refer to the LD specialists who help create a plan and mentor the studying process. Self-directed learning importance is hard to overestimate. Although it imposes more responsibility on the learner, this educational approach enables employees to progress at their own speed.

5. Review the performance of
continuous learning
in the workplace
This stage is also crucial. It helps both the company and its employees track their achievements and understand how the new knowledge helps accomplish set business goals. Our specialists prepare reports and collect feedback about the education options they provide and assess the level of employee engagement. It's a two-sided interaction. On one hand, people can recommend something they find interesting, on the other hand, we make knowledge more available for them. The goal is to build a system where everyone understands the importance of continuous learning in the workplace and knows how to join it.
Although improving training opportunities in the workplace seems to be obviously beneficial, many businesses still struggle to create a learning culture. Create a long-term plan for it and allocate resources. Then collect employees' aspirations and align them with company goals. Combine different learning strategies and track the progress. Remember that for many colleagues studying after a break, i.e. after graduating from university, may be a bit challenging. Therefore, be ready to test different approaches and techniques. Make knowledge available and endorse those who show enthusiasm. Thus, you will have more experienced and engaged employees ready to tackle the upcoming business challenges.
Closing Thoughts
Learning in the workplace is an essential part of professional growth and development. Taking advantage of available educational opportunities can help employees stay up to date on trends, develop new skills, and be more successful in their current positions. By creating a learning culture that encourages employees to take ownership over their own education, employers can ensure they are getting the most out of each individual's potential. With effective communication strategies, tailored training programs, and clear expectations for success, organizations will have the knowledge needed to maximize employee engagement while fostering a productive work environment where everyone succeeds.
Communication is a part of the company culture . Creating an open dialogue between employees and employers helps ensure that everyone has a clear understanding of expectations. Open communication also allows for more personalization of training programs and a better understanding of employee goals. Additionally, providing feedback on progress and accomplishments helps to foster an environment of success while keeping employees motivated and engaged in their work.
Finally, when it comes to effective learning in the workplace, employers must create an environment that is conducive to ongoing education and advancement. Don't hesitate to apply different learning programs in your workplace. Knowlwdge is power.