Our Jooble team regularly receives feedback from employers and refines the site. This month, we've decided to make the automatic candidate selection by Digital Recruiter even more comfortable. Very soon, you will be able to try all the modifications for searching for your employees on our site.
Explore the improvements of working with Digital Recruiter and the updates in the employer's account.
What has changed, and why you're going to fill vacancies faster
Digital Recruiter's recommendations are in a separate block now

We have detached Digital Recruiter's recommendations from direct reviews. The Recommendation feed is available under direct reviews. Moreover, it will have distinct separation. That decision will enable you to focus on either your candidates' reviews straightaway or automatic recommendations and address Digital Recruiter's recommendations when there aren't enough other reviews.

Digital Recruiter's recommendations have become dynamic

Digital Recruiter used to recommend five candidates daily, but now the number of recommendations is unlimited. Therefore, you'll have more chances to fill your vacancy.

Other pros of dynamic recommendations:

only the latest profiles that appeared during the past three days are being demonstrated first;
profiles are updated during every visit to the employer's account and after editing the vacancy.


Dynamism exempts from waiting for candidates' reviews and enables to search for employees through the system of profiles where about 2500 new job seekers register daily.
Digital Recruiter – anytime and for everybody
From here on, Digital Recruiter is available for all users. We've decided to make this function automatic in the employer's personal account so that you don't miss an opportunity to receive valuable recommendations for your vacancies.
Digital Recruiter is helpful as it analyzes the applicant's profile on its own and suggests which vacancies requirements the candidate meets. Based on your request, the combination of "candidate" and "vacancy" is created.
Some more updates in the employer's account, which recruiters were asking for
We have renamed the tab "Reviews" and "Candidates" for your convenience. Now you can find reviews, recommendations, and their statuses in the "Candidates" tab.
When visiting the cabinet, you'll be aware of what vacancies are worth your attention in the first place. It will enable you to go to unseen or new profiles recommended by Digital Recruiter.
We've kept only one review status – "Unseen" ("New" has been removed), to make dealing with reviews transparent.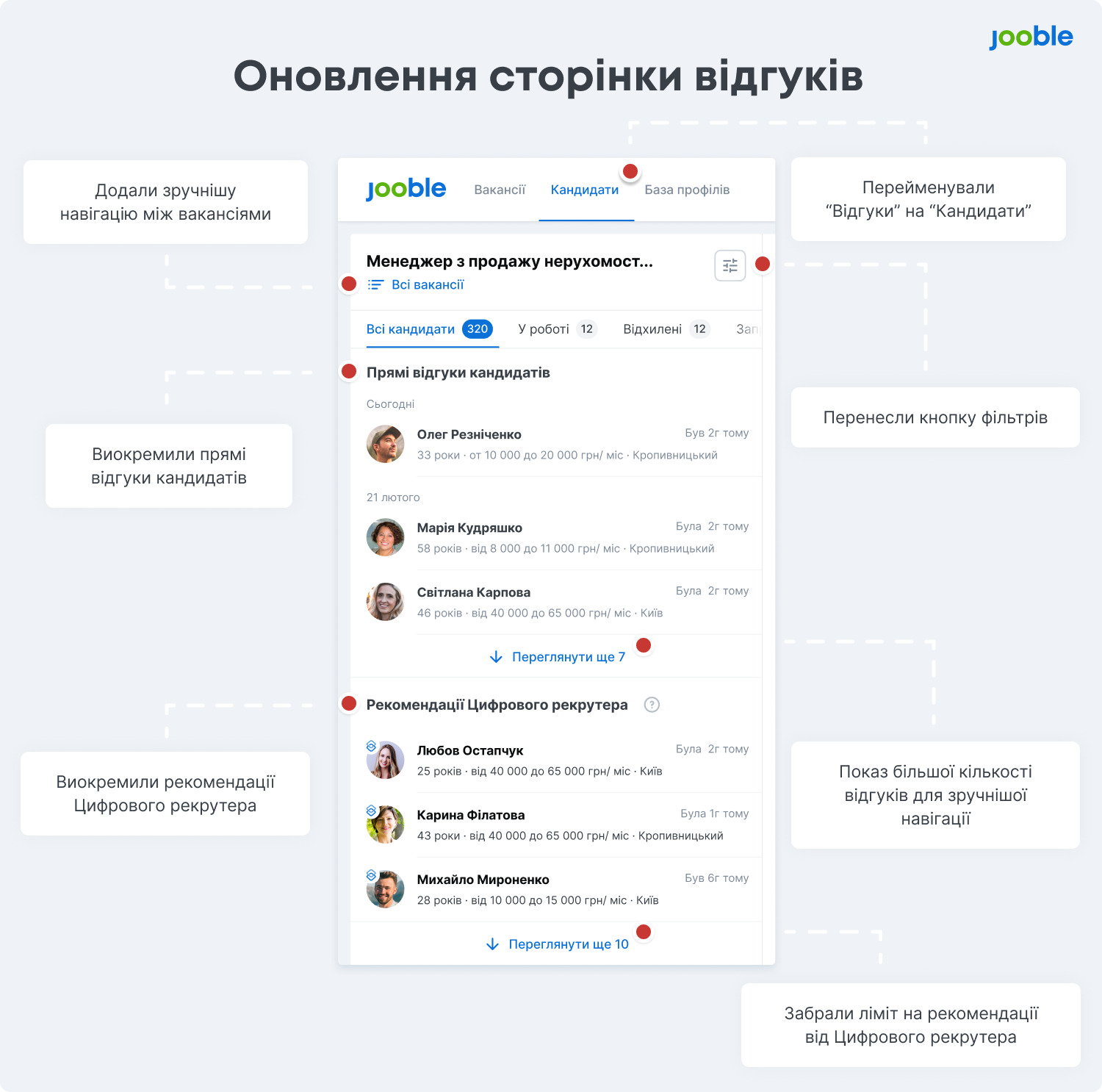 The updates on the Jooble site allow you to significantly save your time and use the most effective tools to fill your vacancies. It's speedy and straightforward with us!